Owner aboard ambulance, dog stows away
The hospital was an hour's drive from the patient's home. Mason County (Texas) EMT Tanner Brown and and his partner were 20 miles into the trip when a motorist flagged them down and told them there was a dog on the side of the ambulance.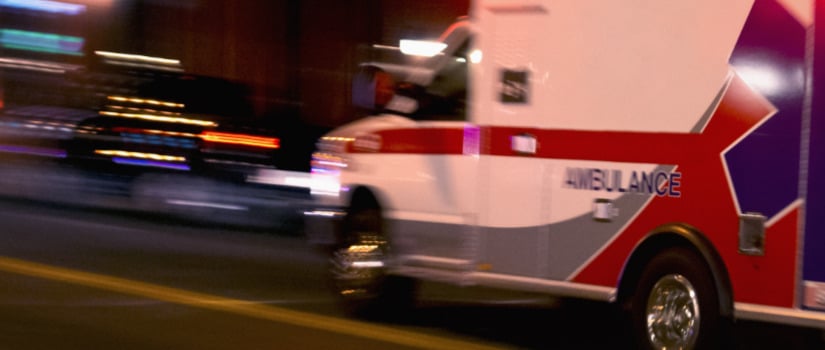 As reported by Michelle Gaitan of the San Angelo Standard-Times, Buddy, a beagle mix, appears to have hopped onto the small side step of the ambulance in order to stay with its owner, 85-year-old rancher JR Nicholson, who was being taken to Fredericksburg hospital for reported dizziness. Once they were alerted to the presence of the canine stowaway, Brown says, "we didn't have anything else to do but to load the dog up and put him in the ambulance and take him to the ER with us."
Buddy made the most of his opportunity.
"It was kind of funny. We were inside [the emergency room] and he had jumped onto the control switch and turned on the sirens and the lights," Brown recalls. "We didn't know what was going on."
Nicholson had picked up Buddy just four months earlier from an animal shelter — long enough, apparently, for the dog to become powerfully attached.
"I was impressed," Nicholson told the Standard-Times. "He didn't have to go to the hospital with me, but he did."
Read the full article at: ems1.com
https://www.unitekemt.com/wp-content/uploads/2018/07/buddy-the-beagle-hitches-a-ride.jpg
350
825
Unitek EMT
https://www.unitekemt.com/wp-content/uploads/2017/08/unitek-emt-logo.svg
Unitek EMT
2014-12-04 06:18:46
2018-07-03 08:18:57
Buddy the Beagle Hitches a Ride