Emergency medical technicians provide emergency care for sick or injured people and are responsible for safely transporting them to the nearest medical facility or hospital. The transportation to the hospital needs to be done as quickly as possible, and under the best conditions possible. EMTs are dispatched to the scene of an accident, or wherever else they may be needed, by a 911 operator. EMTs work in pairs and may be assisted by the police or fire department.
The responsibilities of an emergency medical technician include patient assessment, performing basic procedures, such as opening airways and restoring breathing, controlling bleeding, treating for shock, assisting in emergency childbirth, administering epinephrine and oxygen, or treating heart attack victims with external defibrillators. An EMT's responsibilities are not limited to just providing emergency medical care to individuals in need of such care, but also making sure that the ambulance used to transport the patients is fully equipped, or decontaminated, should the circumstances require such an action.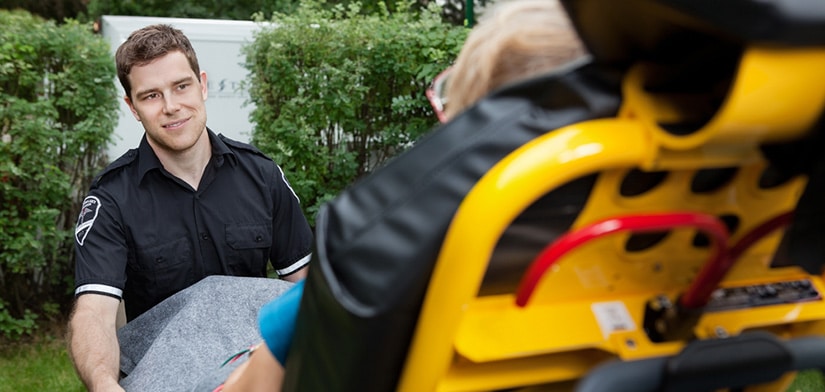 Those who wish to become EMTs
Those who wish to become EMTs should know that this profession requires emotional stability, as well as good physical coordination and dexterity. Individuals working as emergency medical technicians should be able to remain calm in emergency situations and react quickly.
There are four levels of certification for emergency medical technician, each of which requires a different type of training. The four progressive levels of certification are EMT Basic, EMT Intermediate (two levels) and EMT Paramedic. The responsibilities and roles of EMTs increase with each level of certification, and, subsequently, the training required is increasingly expansive. Entry of each level 2-4 is only possible after the previous level has been completed, and the individual has a certification to prove that.
EMT Training – classroom and in the emergency room or ambulance
An EMT training will take place both in the classroom and in the emergency room or ambulance, in order to fully equip the student with all the skills and knowledge necessary for the real life situations that an emergency medical technician is faced with every day. The most basic EMT class is EMT 1, the first level of training for this profession, followed by intermediate EMT classes, for levels 2 and 3, and ending with the EMT class for the last level, EMT Paramedic.
More accelerated forms are available for EMT training in California, namely EMT boot camps*. An EMT boot camp* takes no more than fourteen days to complete and comes with the notable advantage that it is led by only one expert instructor, as opposed to traditional EMT courses led by several instructors, thus providing students with consistent training. EMT boot camps* are available for non-California students as well, keeping in mind that the round-trip airfare adds to the price of the boot camp*, and that some restrictions may apply.
https://www.unitekemt.com/wp-content/uploads/2018/07/emt-boot-camp-for-california-and-non-california-students.jpg
392
825
Unitek EMT
https://www.unitekemt.com/wp-content/uploads/2017/08/unitek-emt-logo.svg
Unitek EMT
2012-03-13 06:28:46
2018-08-17 13:06:25
EMT Boot Camp for California and non-California Students