The emergency medical technician profession is very popular and appreciated these days, practicing EMT's being highly respected and valued for their crucial services brought to the community. For the fact that the emergency medical technician career is financially rewarding and offers various opportunities of promotion, the number of candidates for such positions has considerably increased in the last few years. Another reason why many persons are considering becoming certified emergency medical technicians these days is the considerable number of job vacancies in the field. Persons who are EMT's and also have a good level of experience in the branch can easily occupy respectable positions inside major medical institutions nationwide, having the opportunity to build a solid, rewarding career in the medical care branch.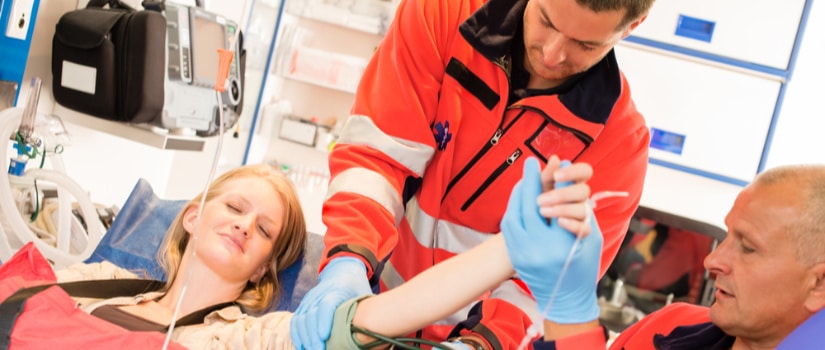 At present there are three EMT certification levels
EMT-Basic, EMT-Intermediate and EMT-Paramedic. While the first type of certification is easier to obtain, the other two types require more extensive emergency medical technician training. To become a fully qualified technician, one needs to complete all the three mentioned programs. All EMT-Basic and other EMT certificates hold a good level of expertise in giving appropriate emergency medical care, knowing a series of procedures such as: restoring breathing, controlling hemorrhages, treating for shock, administering oxygen, bandaging open wounds, immobilizing fractures, assisting in childbirth, assisting heart-attack victims and giving emergency care to burn and poison victims. EMT-Intermediate certificates are qualified for more advanced emergency care procedures such as administering intravenous fluids, using defibrillators to resuscitate heart-attack victims, using advanced equipments in assisting patients confronted with respiratory emergencies, etc. Unlike the EMT-Basic and EMT-Intermediate certificates, EMT-Paramedics are qualified for providing extensive pre-hospital care. EMT-Paramedics can administer drugs orally and intravenously, interpret EKG test results, use complex medical equipment and can perform endotracheal intubations.
Proper emergency medical technician training plays a major part in the process
Regardless of the level of EMT certification you are interested in obtaining, proper emergency medical technician training plays a major part in the process of certification. In order to effortlessly and rapidly enter in possession of the EMT certification, it is important to choose the best emergency medical technician training source available. Considering the fact that obtaining the EMT certification requires passing two distinctive exams – one written and one practical examination – it is recommendable to choose a high-quality emergency medical technician training program that accounts for both the conceptual knowledge and practical abilities required for becoming certified and for practicing the emergency medical technician profession. In addition, the EMT training source of your choice should respect government regulations and be approved by the Ministry of Public Health.
Competitive EMT training facilities, comprehensive, official materials
To ensure that you will have access to competitive training facilities, comprehensive, official materials designed especially for classroom training and that you will be taught by experienced instructors, it is advisable to attend EMT training at a prominent emergency medical technician school. Students who graduate from popular, respectable emergency medical technician schools hold a major advantage ahead of other certification candidates, as they possess a higher level of conceptual knowledge and also hold more advanced practical skills. Consequently, emergency medical technician school graduates have considerably better prospects of obtaining high scores at the certification exams and occupying desirable positions in the best medical institutions nationwide.
https://www.unitekemt.com/wp-content/uploads/2017/08/unitek-emt-logo.svg
0
0
Unitek EMT
https://www.unitekemt.com/wp-content/uploads/2017/08/unitek-emt-logo.svg
Unitek EMT
2012-03-13 07:10:35
2018-07-17 09:52:52
The Importance of Choosing the Right Emergency Medical Technician Training