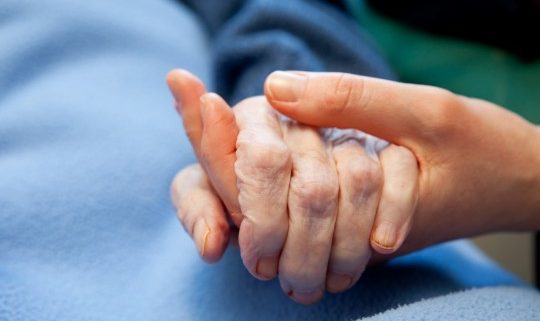 When you think of Emergency Medical Services, you probably think of heart-pounding action, heroic rescues, and dramatic life or death situations. While these things definitely happen over the course of an EMT career, they are (hopefully) few and far between. Some of the most memorable moments in an EMT's career are the quietest and calmest. Madeline, a student of Unitek EMT's Boot Camp*, got to experience this before she even graduated and became a certified EMT.
While completing her hands-on training with a local ambulance company, she and her coworkers were called to a code one: non-urgent patient transport. The patient they were to care for turned out to be Mrs. Jones, a retired Rosie the Riveter, who now had no immediate family and was recently diagnosed with cancer. Madeline and her coworkers were to take Mrs. Jones to a near-by hospital for her first of many radiation treatments.
Madeline and Mrs. Jones got to talking during their drive. They started talking about what they like to do, and discovered they had a shared interest in reading. Mrs. Jones loved reading on her Kindle. It enabled her to read a new book almost every day, and experience things she could no longer do. She was hoping to use the Kindle as a distraction from her impending cancer treatment. Unfortunately, a few days prior, one of Mrs. Jones' nurses dropped her Kindle in a bucket of sanitizing solution, rendering it completely useless.
Madeline had formed a bond with Mrs. Jones, a bond stronger than the typical EMT-patient relationship. After hearing about the recent events involving her Kindle, Madeline wanted to help. Mrs. Jones had no where to turn, and no one to turn to, so Madeline stepped up. In class the next day, Madeline shared Mrs. Jones' story with her class. The entire class wanted to help, and everyone offered to pitch in so they could afford to purchase a Kindle. Inspired by their class going above and beyond the call of duty, the EMT Boot Camp* Instructors brought Mrs. Jones' story to Unitek EMT management. Unitek EMT wanted to help too. The company bought Mrs. Jones a Kindle, and arranged for Madeline and an Instructor to deliver the Kindle to Mrs. Jones.
Mrs. Jones was ecstatic. She thought she would never read again. She thought her radiation treatment would be long and lonely. But thanks to Madeline's support and Unitek EMT's generosity, she once again had the power to immerse herself in new worlds. And Madeline, she is just happy to make a difference in the life of a patient, says she "had the best day ever." As an EMT, she will have many great days ahead of her, as she continues to go above and beyond the call of duty to help her patients.
https://www.unitekemt.com/wp-content/uploads/2014/01/shutterstock_53417668-540x340.jpg
340
540
Alyssa Jordan
https://www.unitekemt.com/wp-content/uploads/2017/08/unitek-emt-logo.svg
Alyssa Jordan
2014-01-10 18:22:59
2019-07-02 12:51:55
EMT Boot Camp* Students Help a Patient in Need