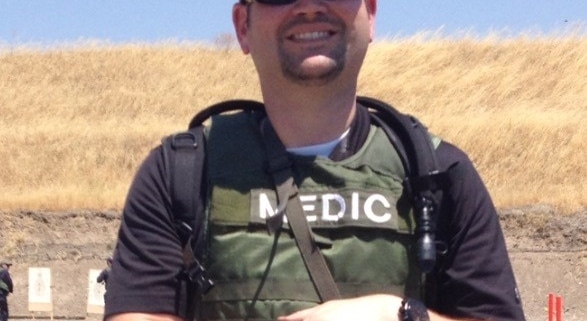 More often than not, an emphasis is placed on programs, students, and benefits. These are all equally important facets to consider when looking at a school. At Unitek EMT, we would also like to take a closer look at our faculty. Not only are they instrumental to our success, but they play a vital role in shaping future EMTs and the field of EMS.
We recently spoke with Chris Seymour, the inspirational Program Director at Unitek EMT. He tirelessly works to educate and uplift the EMTs of tomorrow. Read on with us, and learn a little more about the man behind the program!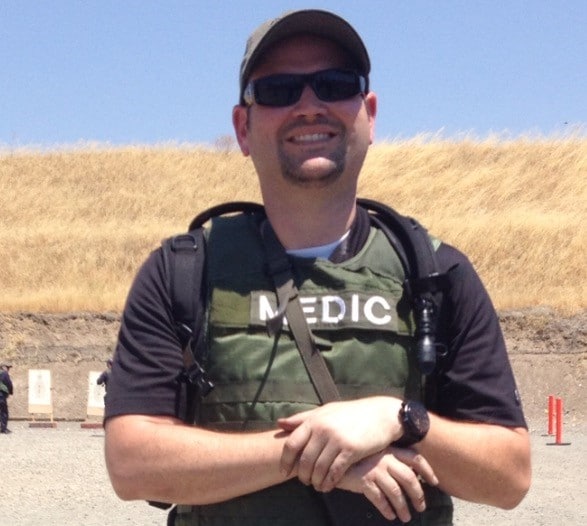 Q: Can you tell us a little about yourself and what you do at Unitek EMT?
A: I am the Program Director and Clinical Coordinator for the Unitek EMT program. I oversee all aspects of the program, including quizzes, lecture format, skills, and the syllabus. Additionally, I am also the lead instructor for the program and deliver many of the lectures.
Q: What is your day-to-day life like at Unitek EMT?
A: Busy, but so much fun! I usually get to work at 6:30 a.m. to setup and organize the classroom for the day's activities. Lecture begins promptly at 8:00 a.m., where I focus the first portion of the day on a review for the previous day's studies. I always try to make sure that students can not only apply the concepts they've learned but also retain the information.
After that, we engage students in a variety of activities, such as group work, presentations, workshops, study groups, and lectures. We break these sessions up as often as we can to keep the students motivated and engaged in participant learning. Throughout the program, we utilize a lecture and skills format so students can practice what we have just lectured on. As a teacher, I like to cater to all learning styles—I want my students to read it, hear it, and then demonstrate practical applications of what they've learned.
At 8:00 p.m. in the evening, it's time to call it a day.
Q: How long have you been with the company? What made you choose Unitek?
A: I was hired as the Program Director about a year ago. Unitek is very unique, and its accelerated programs are completely immersive. I want my students to learn to serve their community, gain a valuable life skill, and become leaders in the Emergency Medical Services industry. I believe our program gives them all of these things. By having an accelerated program, I get the unique opportunity to teach hundreds of students per year. The unique nature of our program allows students to come to class, get an amazing educational experience, and then pursue a career as an EMT.
Q: Has your role changed since you've been here?
A: My role hasn't changed. I still love to teach, but I am actively searching for ways to expand our program and explore other avenues. EMT is a science-based field, and since science and technology are ever-changing, our program must also continuously evolve. We have a lot of exciting new ideas on the horizon, and as Program Director, I can't wait to move them from the theoretical to the real world.
Q: What did you do before this?
A: I have been a Paramedic for almost twenty years. I've worked all over, doing everything from working for the County Public Health Department, supervising a 911 system, arranging high-profile events for VIP clientele, serving as an Executive Protection Specialist, and working as a 911 medic. Most recently, I was the Vice President of one of the largest-growing ambulance companies in California. Because of our explosive success, we explored new and creative ways to reinvent the ambulance business.
My idea was to build a school, and as I founded a post-secondary school of education, I realized someone would have to teach. So, I took it upon myself to become a National EMS Educator and began teaching part time. I soon found that this was my true passion. I enjoyed teaching so much that I decided to leave the ambulance business and pursue teaching full time. Unitek is a great place, it allows me to teach almost every day, it challenges me in fun and unique ways, and the staff that I work with is amazing.
Q: To date, what professional achievement are you most proud of?
A: I am proud to have achieved my Master's Degree. I would have never been able to receive a college education if it wasn't for EMS. My family didn't have a lot of money to send me to college, so I paid my own way while working full time as a Paramedic.  Having a career in EMS has afforded me so many unique opportunities. It has been good to me, which is why I'd like to pay it forward.
Q: What do you like to do outside of work?
A: Sleep…just kidding! My duties at Unitek keep me very busy, as I typically teach six days a week. However, when I'm not a Unitek, I like to do a variety of things. My absolute favorite thing is being a husband and a father.
Q: If you had to pick just one thing, what would you say is your favorite part about working at Unitek EMT?
A: It's hard for me to choose a favorite part about working here. My coworkers are amazing, the facilities and equipment are great. If I had to choose just one thing, I would pick my students. I love seeing the "lightbulb" come on and watching the students master new concepts. Though we start with a room full of strangers, our students quickly become friends, colleagues, and teammates.
My favorite part of the day, is when I check my email and read a message from a recent graduate, who tells me they have passed the National Registry, or they just got hired as an EMT, and they are thankful for what they learned in our program. I'm very proud of all my students, and I feel honored to have helped them in their pursuits.
Q: Where do you see this company in the next few years? What gets you most excited about the company's future?
A: We have a lot of new plans for the program. I've been in EMS my entire adult life; I see the challenges on the horizon, and I am familiar with what our industry needs in order to overcome the unique challenges that will arise. I expect our program to grow and meet these challenges, which will fill the needs of those who seek to improve the wellbeing of others through their actions. What gets me excited about the future are the seemingly endless possibilities. As for where we go next…well, you'll just have to see.
Q: If there was one thing you could tell people about the EMT program, what would that be?
A: There are EMT schools everywhere. I know them—I have helped build some of them—and I know the professors that teach at them. While they are all good schools, Unitek's EMT program is unlike anything you have seen before. Our lessons transcend the classroom; we bridge the gap between theory and application seamlessly. Our program focuses on science, how you apply your knowledge of science, and how to use what you have learned to overcome unique challenges as a team to help those in need. I expect a lot from my students and, in return, our team gives them everything we can to make them successful.
https://www.unitekemt.com/wp-content/uploads/2018/06/Chris-3.jpg
526
587
Alyssa Jordan
https://www.unitekemt.com/wp-content/uploads/2017/08/unitek-emt-logo.svg
Alyssa Jordan
2018-06-26 05:15:04
2018-09-12 09:53:49
Unitek EMT: FAQ Faculty Series