If you excel in emergency situations and you're interested in helping others, a career as an Emergency Medical Technician (EMT) could be a great choice for you.
EMTs perform life-saving work in Emergency Medical Services (EMS) and fill a critical role in healthcare. Whether it's a medical emergency or the scene of an accident, EMTs act as first responders and provide immediate care for the public. To better understand this rewarding profession, allow us to take you on an EMT career overview.
The path to becoming an EMT is dependent on your educational choices. EMT training largely revolves around life-support techniques in emergency situations. EMT courses, or "EMT school," can often be completed in six months to a year. Programs are typically found at private institutions and community colleges. While enrolled in these programs, students will be taught how to assess patients and manage emergency situations. It's very beneficial for students to receive practical training, as they can operate field equipment and experience real-world scenarios.
EMT program utilizes on-ground training
At Unitek, the 14-Day EMT Boot Camp utilizes on-ground training. Students receive about 140 instruction hours through a combination of didactic lessons, labs, and clinical experiences. Some courses Unitek students can expect to see include EMS Systems, A Team Approach to Healthcare, Workforce Safety & Wellness, Medical Terminology, Transport Operations, and more.
Once you have finished your EMT basic training, you must seek certification within two years. To obtain EMT certification, you'll need to successfully complete the NREMT practical skills/written exam and apply for certification under a local agency. The exam is conducted by the National Registry of Emergency Medical Technicians (NREMT). Questions will cover the entire spectrum of EMS care, and the following topics will be included: Airway, Respiration & Ventilation, Cardiology & Resuscitation, Trauma, Medical, Obstetrics/Gynecology, and EMS Operations. It's important to note that professionals must get recertified every two years.
Care for sick or injured people that require emergency treatment
An EMT's primary responsibility is to care for sick or injured people that require emergency treatment. While they can work in a variety of capacities, EMTs are typically known for providing immediate medical attention. These emergencies can include car crashes, natural disasters, health issues, and various accidents. In the line of duty, EMTs often perform CPR and treat external wounds. They also transport patients to hospitals or other healthcare facilities. Due to the chaotic and high-stakes nature of this position, EMTs must be quick, accurate, and effective.
Unitek EMT Training Program
When searching for EMT programs, it's important to consider your location and any cost limitations. Regarding location, Unitek's EMT program is available at our Chandler facility in sunny Arizona. While the 14-Day Boot Camp is an intensive experience, it is also ideal for those that are short on time and eager to start a new phase in their life.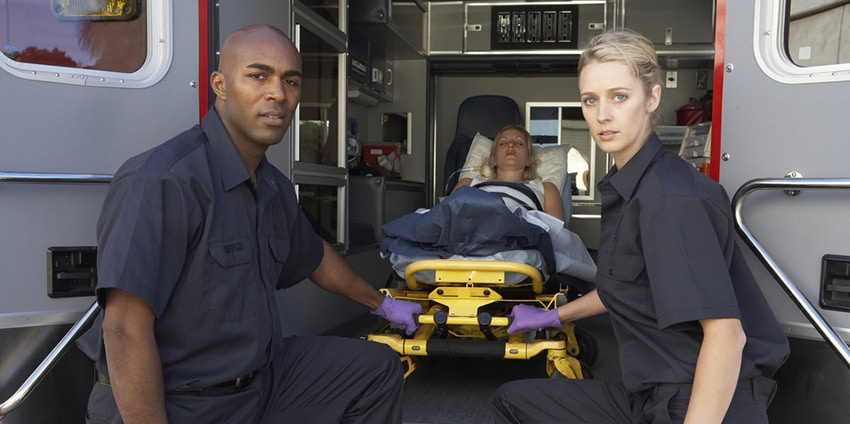 Another key advantage of Unitek's EMT program is the lack of hidden fees or service charges. The Boot Camp charges one affordable, all-inclusive price that covers simulation training and in-class meals. With our EMT program, you can gain invaluable experience and get quickly certified.
Employment opportunities for EMTs and paramedics are expected to grow 15 percent by 2026.1 According to the Bureau of Labor Statistics, this increase is partly due to specialized medical facilities that will need more patients transferred for treatment. It's likely that the aging baby-boomer population will also create a number of medical emergencies, which will in turn create a greater need for EMTs.
In 2016 alone, EMTs and paramedics held 248,000 jobs. The Bureau of Labor Statistics lists the following as vital qualities for EMS workers: compassion, interpersonal skills, listening skills, physical strength, problem-solving skills, and speaking skills. EMTs and paramedics serve the community around them by providing critical care and emotional support. They are absolutely vital to maintaining the wellbeing of the public.
If you're interested in EMT training, please visit our website to learn more about our program, or contact us toll free at 888-790-1458.
Start your EMT career with Unitek, today.

1 https://www.bls.gov/ooh/healthcare/emts-and-paramedics.htm