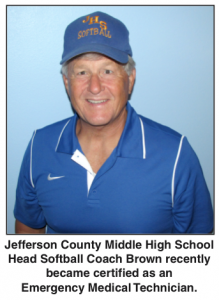 Head Softball Coach at Jefferson County Middle High School, Coach Brown, has been witness to his fair share of injuries on and off the field. After watching too many players suffer asthma attacks and broken bones, Coach Brown decided he could do something to help. He decided to become a certified Emergency Medical Technician. "I felt the need to upgrade my personal knowledge of onsite emergency medical care. Medical emergencies for my players could happen again during a practice, or a home game, or while traveling to and from games."
Coach Brown didn't have to become a certified EMT. But the compassion he felt towards his players, and his concern for their safety, drove him to do so. It is the same compassion that drives all EMTs – the desire to care for others in times of need. Friends say Brown has a "softspot" for the players he coaches. Brown agrees that he most definitely does.
Brown wanted to be well-versed in emergency medical care so he could help players in time of need – but not any type of first-aid training would do. "I decided to train as an EMT. However, my personal schedule and limited available time outside of softball made scheduling a long-term course much too difficult," says Coach Brown. His solution: Unitek EMT Boot Camp*.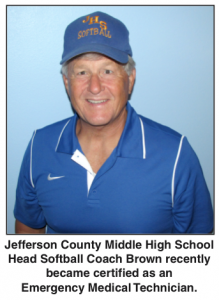 EMT Boot Camp* at Unitek EMT fit his schedule perfectly. He flew to California for an intense boot camp* of hands-on EMT training, emergency drills, and classroom lectures. "The Boot Camp-style training conducted by Unitek EMT," which compresses months of training into 14 non-stop days in boot camp*, Brown says, "taught everything that I would have learned in a long term course."
Some of Brown's classmates entered EMT Boot Camp* nervous about the 12 to 14 hour days – information overload or lack of sleep. "I can say without reservation that this did not happen," says Brown. Instead, EMT Boot Camp* was 14 consecutive days of excitement, engagement, and all-things-EMT.
Coach Brown enjoyed every aspect of EMT Boot Camp*. From the course organization and leadership, to the curriculum, to the hands-on training. "The course content and organization was excellent. The individual instructors were all professionals in their field and as dynamic as you could ever want," says Brown. "The curriculum was a mix of classroom and many outside practical exercises."
He also very much enjoyed the hands-on EMT training he received in the form of ambulance ride-along training. "They were invaluable for my training and gave me a true and up close appreciation for the professional services that community EMS services provide." Coach Brown saw exactly how diverse the Bay Area could be: Coach Brown rode along with Paramedics and EMTs at Advanced Life Support (ALS) Company in downtown San Francisco, an experience he will never forget. His team fielded calls "ranging from a French tourist fainting in a museum, to a death from cardiac arrest. In between, there was a motorcycle versus car crash, a stroke patient, a second cardiac emergency, and a severe bloody beating of an HIV-positive man."
After graduating from Unitek EMT Boot Camp*, Brown says he "sees things in a different light." He assesses situations, spotting potential dangers; and if something does happen, he feels confident in his ability to respond effectively.
Boot Camp* Graduate, and now certified EMT, Coach Brown embodies the Unitek motto of "going beyond the call of duty". Coach Brown went beyond what was required of him as a coach, and made himself an invaluable asset to the Jefferson County community.
https://www.unitekemt.com/wp-content/uploads/2013/12/Coach-an-EMT-219x300.png
300
219
Alyssa Jordan
https://www.unitekemt.com/wp-content/uploads/2017/08/unitek-emt-logo.svg
Alyssa Jordan
2013-12-14 00:25:51
2018-05-03 10:41:59
Baseball Coach Becomes EMT for the Sake of His Team