It isn't hard to find heroic stories about EMS workers. Whether they're responding to a high-stakes call or completing a calm, quiet transport, EMS professionals are constantly helping others. Today, we want to shed a light on some exceptional EMS stories from the summer of 2018.
These tales of valor were all found on a website called EMS1. Not only does EMS1 provide relevant news for the community, but they also supply important training information, various related services, job listings, and a network for EMS professionals. After reading this list, we highly recommend you check them out!
Without further ado, here are some remarkable EMS stories: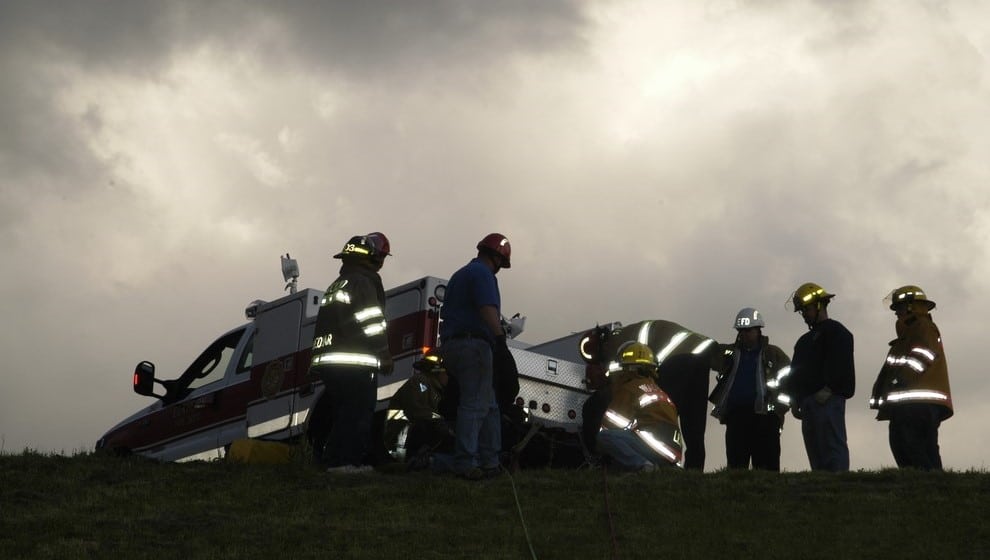 1. Dispatcher coaches a family through the delivery of their baby (Monroe County, IN): As recounted in this EMS1 story, Britt Miller had never helped anyone deliver a baby over the phone. However, she successfully assisted Kim Schroeder with the delivery of her grandchild. The two later met at the hospital and shared a celebratory moment.
2. Heroic paramedic restrains senior home resident with a gun (Buffalo, NY): Reportedly, the paramedic was in the process of convincing the resident to go to the hospital—specifically for a psychiatric evaluation—when the elderly man took out a gun and shot at a nearby maintenance worker. The paramedic quickly restrained the man, and continued to do so until the police arrived.
3. Paramedics presented with the Big Willie Whitley Citizenship Award for saving a police officer (Oakland, CA): In June, three civilian paramedics came to the aid of a police officer. After knocking Officer Hector Chavez to the ground, Sean Miller proceeded to attack him with a barrage of punches, all the while yelling "I'm going to kill you." Together, the three paramedics stopped the attack and called for aid.
4. Paramedic witnesses a robbery and helps restrain the suspect (Queens, NY): After an elderly woman flagged him down, Lt. Dwayne Coley and two colleagues ran toward a local café and helped detain the suspect of a robbery. Their willingness to jump into harm's way is a common trait seen in EMS professionals.
5. First responders discuss their heroic rescue of a trapped woman (Mesa, AZ): Various EMS professionals helped save a woman who almost drowned in a canal. Dispatchers, firefighters, and other responders coordinated the rescue efforts, which involved lowering a ladder into the woman's submerged vehicle.
6. A fire captain and a paramedic save two people struck by lightning (Sheridan, IL): Before the fireworks even went off, a fourth of July celebration quickly took a tragic turn. Two victims—an 18-year-old man and a 4-year-old girl—were struck by lightning, sending both of them into cardiac arrest. The presence and quick thinking of two EMS professionals likely saved their lives.
7. Paramedic honored for his strength and bravery while rescuing an injured hiker (Coupeville, WA): Paramedic Nick Runions and EMT Tom Cross came across a hiker with a broken ankle and a torn ligament. Because the path was very narrow, Runions strapped the hiker to his back and carried her to the peak of the summit so that they could safely transport her to the bottom of the trail.
8. A doctor and an assistant fire chief save a man mid-flight (Detroit, MI): St. Paul Fire Department Assistant Fire Chief and EMT Mike Gaede assisted a doctor by providing an ailing man with oxygen and an IV until the plane could make an emergency landing. Gaede was flying home after attending memorial services for David Rosa, a Long Beach Fire Captain who had been fatally shot in the line of duty.
If you've become inspired by these stories, you might want to consider Emergency Medical Technician training. At Unitek EMT, we offer EMT training in California and Arizona, online EMT training, an EMT refresher course, and so much more.
For more information about Unitek EMT, please contact us toll-free at 888-790-1458.
https://www.unitekemt.com/wp-content/uploads/2018/07/unitek-emt-delves-into-ems-stories-from-the-summer-of-2018.jpg
560
990
Alyssa Jordan
https://www.unitekemt.com/wp-content/uploads/2017/08/unitek-emt-logo.svg
Alyssa Jordan
2018-08-08 05:15:35
2018-09-12 09:46:16
EMS Stories from the Summer of 2018