In New York, seventeen people nearly lost their lives. They recently had the opportunity to reunite with the paramedics and the EMTs who saved them. An article by FireRescue1 looks at the actions of some of these guardian angels. From a preacher to an FDNY veteran, the quick thinking of first responders undoubtedly saved lives.
As an emergency medical services (EMS) professional, you can greatly impact people throughout your community. In today's blog post, we're going to look at some exceptional EMS stories and how they've affected various lives…
Heroic Acts in the EMS Community
One individual compared his near-death experience to a rebirth. A Baptist preacher from Queens, Reverend Jeffrey Thompson was preaching to his congregation when he suddenly went into cardiac arrest. Thankfully, paramedics Giovanni Reggler and Shaun King arrived in record time.
In May 2019, Reverend Thompson reunited with his rescuers at the Liberty Warehouse in Red Hook, New York. "It means a tremendous amount to be able to say thank you," Thompson said before pulling Reggler and King into one big hug. "I'm lucky to be here."
In another story of valor, Anthony Garofalo received aid after collapsing and experiencing chest pain. A father of two teenage daughters, Garofalo was treated by Emergency Medical Technicians (EMTs) from Station 23 and firefighters from Engine Company 157.
"They hit me with that defibrillator like 13 times, no one gave up," Garofalo said. "They just kept pulling for me. I'm just truly blessed and thankful…I have a wonderful life."
The last story involves a 37-year veteran of the New York City Fire Department (FDNY). According to FireRescue1, "Bill Staudt had his brothers and sisters in arms to thank for his new lease on life." While working at the fire department's Research and Development office in Fort Totten, Staudt felt a burning sensation in his chest and collapsed next to his colleagues.
Firefighter Patrick Shields saved his life by providing CPR and calling EMTs, who immediately ran to help from a nearby building. Of their actions that day, Staudt said, "They're the true heroes."
When asked about all these close calls, FDNY Chief of Department John Sudnik attributed the outcomes to their department's rigorous training regimen. He explained:
"We practice, we work as a team so we are always ready for those life-threatening emergencies. Thankfully, this morning, as a result of all that preparedness, we are able to put smiling faces to those calls, and our members are able to meet the people whose life they saved."
To learn more about EMS lifesavers, be sure to check out FireRescue1's article as well as their informative "Fire News" section.
A Quick Look at Unitek EMT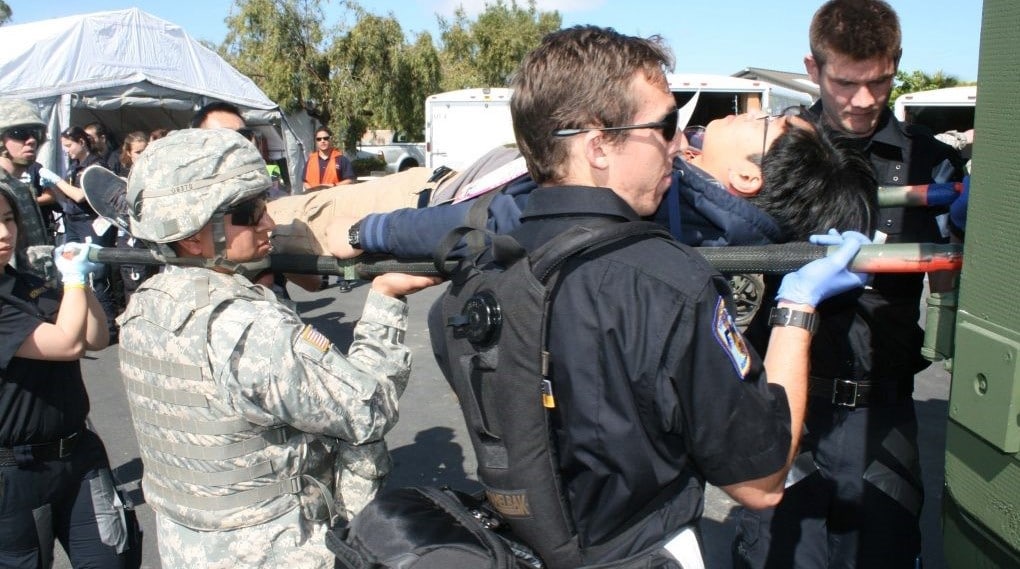 If you're interested in EMS but haven't taken that next step, you might want to consider EMT training! At Unitek EMT, we strive to prepare aspiring Emergency Medical Technicians by providing them with an accelerated EMT program. Experts in the EMS field educate our students through a combination of traditional learning, simulation training, and workshop-style classes.
Our 14-Day Boot Camp1 is currently completed at a facility in Tempe, Arizona. Students can also attend American Heart Association (AHA) CPR courses or a stellar EMT Refresher course. Additionally, a BLS course is offered at the Tempe facility as well.
Many aspiring firefighters also seek EMT certification to increase their employment opportunities. In fact, some employers will only hire firefighters with EMT training. To learn more about this preference, check out one of our firefighter blog posts here.
For more information about the program, please contact us toll free at 888-790-1458.
Learn how to save lives with Unitek EMT!
1 Our 14-Day EMT Program in AZ is taught in an intensive "boot camp" style, to simulate the fast pace of work expected on the job as an EMT.
https://www.unitekemt.com/wp-content/uploads/2019/05/When-Victims-Are-Reunited-with-EMS-Lifesavers.jpeg
1500
2250
Alyssa Jordan
https://www.unitekemt.com/wp-content/uploads/2017/08/unitek-emt-logo.svg
Alyssa Jordan
2019-05-29 05:15:16
2020-03-30 13:59:07
When Victims Are Reunited with EMS Lifesavers